FY 23 Results of the Top Six Indian Engineering Service Providers (who declare engineering service revenue in financial results) are out. In May 2022, EIIRTrend estimated that leading Indian engineering service providers would grow 20%+ in FY23, and happy to report that we were spot on.
The weighted average YoY growth rate of these six engineering service providers in FY23 is 20.7%. The growth rate of many other large Indian engineering service providers who don't declare their engineering revenue is in a similar range.
 NASSCOM estimated the FY 23 growth rate of the Indian engineering sector as 11.1% (Strategic Review Released in February 23). The fact that leading service providers have grown more than that is an encouraging sign.
 FY22 and FY23 have been two consecutive good years for engineering services. Will the engineering service growth streak continue in FY24?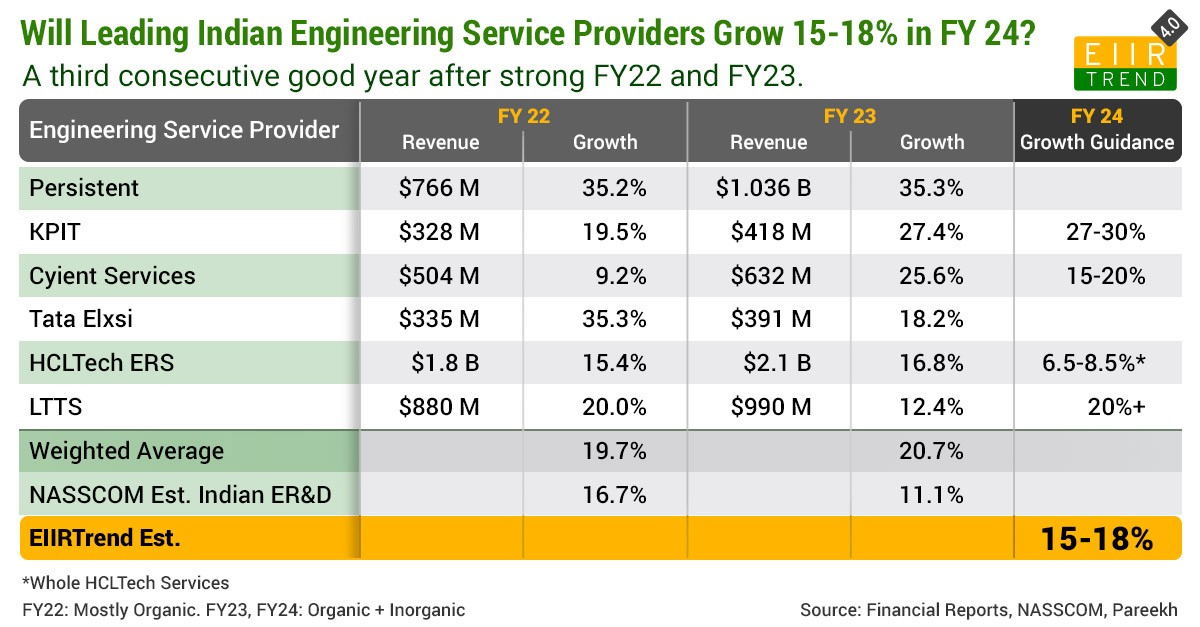 Will FY24 be another good year for leading Indian engineering service providers despite macro uncertainties?
I think so. Some service providers have given FY23 growth guidance from the 6% to 30% range. For this cohort, we should end up with 15-18% growth on a weighted average. Four reasons for this optimism
 Big Tailwinds: Some sectors, such as automotive and aerospace, are benefiting from big tailwinds. Other engineering sectors are also doing well, and so are different geographies. Most verticals, horizontals, and geographies should deliver double-digit growth.
Less exposure to macro headwinds: The macro headwinds in the IT sector are in BFSI and Hi-Tech verticals. Engineering service providers have relatively less exposure to these sectors. Even in hi-tech, Indian engineering service providers are holding well compared to global engineering service providers because of client and project mix.
Large deals, orders won, and deal pipeline: There were many big deals announced in the last year by engineering service providers, which should provide stable revenue in FY24. If the trend of the large deal continues, then FY24 growth will not be difficult. The deal pipelines of service providers remain healthy.
Inorganic pursuits: Indian engineering service providers are becoming bold and ambitious in their inorganic pursuits, be it buying another service provider or customer captive or carve-out. In FY23, many inorganic pursuits were announced, and they will help in growth in FY24. There is a possibility for further acceleration in engineering service M&As in FY24, which should be good for growth in FY24 as well.  
Bottom Line: There is a lot of talk about whether the inflection point has been reached in engineering services and has pandemic become an accelerator for engineering service outsourcing the way the GFC in 2008 became an accelerator for IT outsourcing. If a cohort of leading Indian engineering service providers can grow by 20% for two consecutive years, then it will be safe to claim that the inflection point has reached for the industry and the slope of the engineering services outsourcing growth curve has changed for good. There will be short hiccups in some verticals, horizontals, and geographies in the journey, but I am an optimist of sustained engineering service growth, and FY24 should be another good year.