Captive or GIC buyout is one of the important growth strategies for engineering service providers. It gives scale, skills, talent, credentials, and a predictable revenue stream to engineering service providers.
No wonder captive buyout is part of the growth agenda of almost every engineering service provider which has balance sheet strength. But there has been little success. Engineering is a core business for enterprises, and selling internal engineering departments to a third-party engineering service provider is not an easy decision despite having a clear business case.
I analyzed the captive transactions data. There were four captive transactions in 2022 in the public domain where there is some component of engineering. Interestingly all four are separate service lines of either enterprise or ISV.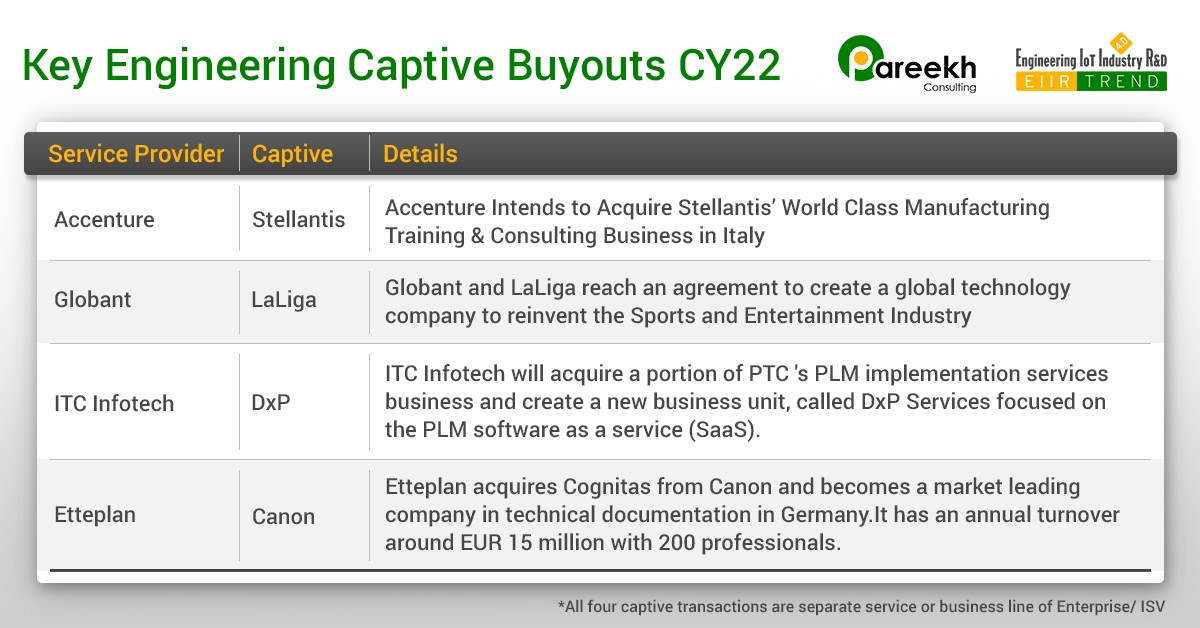 Even the recent LTTS SWC transaction announced in January 2023 is in a separate services space.
Why are engineering service providers interested in enterprises and ISVs services hive off?
Services captive transactions are even more attractive than usual captives. Apart from the usual scale, skills, talent, credentials, and a predictable revenue stream, they give something more to engineering service providers. Services hive-offs also provide access to new customers. In a way, captive service transactions are like the M&A of another service provider. They provide the best of both world captive transaction and service provider M&A.
Why are enterprises and ISVs willing to hive off services units?
 A few points here:
 Core vs. non-core perspective as there are many services in the value chain which are not core but enterprises offer them for the sake of completeness or for historical reasons. Services may be consulting, professional service, tech support, etc. Similarly, many enterprises enter adjacencies, and if there is no scale in these adjacencies, it is better to divest them and improve focus on core and differentiating activities.
Talent requirements are different for different services. Sometimes it is difficult to attract the right talent if there is no scale. Other times it is difficult to accommodate different kinds of talent profiles and salary structures.
Scale is not achieved in many of these non-core and adjacent activities, which can be hived off, and service providers can scale them.
Financial metrics of enterprise often improve after hiving off non-core services. For example, revenue/ employee or profit per employee often improves with the removal of either low revenue or low profitability segment
Monetization with cash flow improvement as engineering service providers are ready to give attractive valuations with aggressive commercials, including upfront payment. If enterprises are facing tough cashflow situations because of internal or external reasons, then services hive-off is an attractive option.
Bottom Line: Captive buyout will remain an important growth strategy for engineering service providers. In this macro environment attractiveness of captive buyouts has increased further as all engineering service providers will welcome non-linear growth opportunities. Services division of enterprises and ISVs look attractive options. Engineering service providers need to convince enterprises and ISVs with attractive financials that hiving off non-core services is a win-win proposition. And then, service providers need to make a plan to grow the acquired business with more customers. It's a lot of work with financial reengineering, capability development, and solution selling, but the upside is good growth possibilities.