In the last TCS quarterly results call (Q3FY23), Rajesh Gopinathan (TCS CEO) commented on pricing and revenue productivity. There is pricing at the time of the deal, and then there is revenue productivity which helps increase the margin over time.
 If you understand this, then you understand the playbook for high-margin IT services business at scale. It goes something like this for tier-1 IT service providers: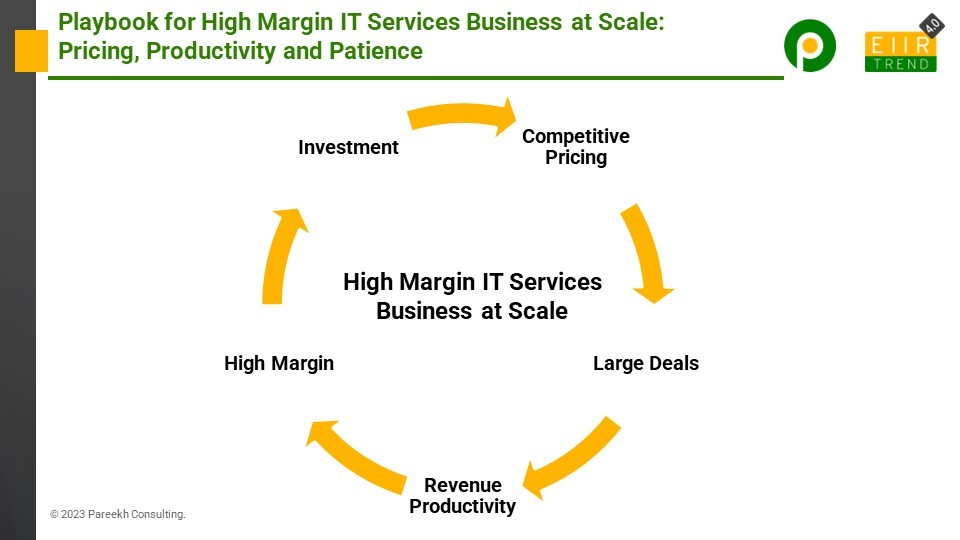 Competitive Pricing: In IT services, the price is set by the market, and service providers have to be in range with little room for variation to win the deals. Competitive pricing is one of the factors that customers look for while awarding deals.
Large Deals: The main route to scale business for IT service providers are winning large deals or gaining a larger share of the wallet of its customers via a series of smaller deals. And IT service providers need to repeat this with more and more customers for further scale. Competitive pricing helps in both winning large deals and increasing the share of the wallet of customers with smaller deals.
Revenue Productivity: If pricing is competitive, then how to work on a good (above industry average) margin? Here revenue productivity comes in. There are revenue productivity or margin levers such as the pyramid, replacing subcontractors, offshore mix, utilization, reusable solutions, and assets.
High Margin: If IT service providers are able to utilize revenue productivity levers effectively, they will have high margins both at the deal level and at the corporate level. The success of service providers in having high margins is directly dependent on the success of revenue productivity initiatives in deals.
Investment: High margins enable further investment  in the revenue productivity levers and sales growth initiatives
Past success in revenue productivity initiatives and continued investment in revenue productivity levers gives further confidence to IT service providers to be more competitive in pricing, and that results in a greater number of large deals. And the cycle continues.
Many mid-tier or niche companies have high margins because of differentiated offerings but having high margins consistently at scale is a different ball game. Very few service providers can do it.
 Bottom Line: Service providers can have a high-margin growth loop with pricing and productivity. But  It requires investment and long-term thinking, and here the role of patience comes in. Any transformation requires time to deliver. The good news is that a high-margin playbook can be adopted along with scale with pricing, productivity, and patience.