Digital engineering remains a key topic for engineering services, but in my discussion with stakeholders, I realize there is a need for more data points about its adoption and value. As 2021 is drawing close, we looked at digital engineering performance in 2021. Five signs that digital engineering is gaining fast adoption and creating value.
Acquisitions: Digital engineering dominated both in value and volume. Among the top five engineering services acquisitions of 2021, two are of digital engineering, including the biggest acquisition in the history of engineering services, the $9.6 Billion acquisition of GlobalLogic, as shown in the below exhibit.
Overall, there were 80+ engineering services acquisitions in 2021, and about two-thirds of them can be classified as digital engineering. (Refer 2021 engineering services acquisition details on EIIRTrend)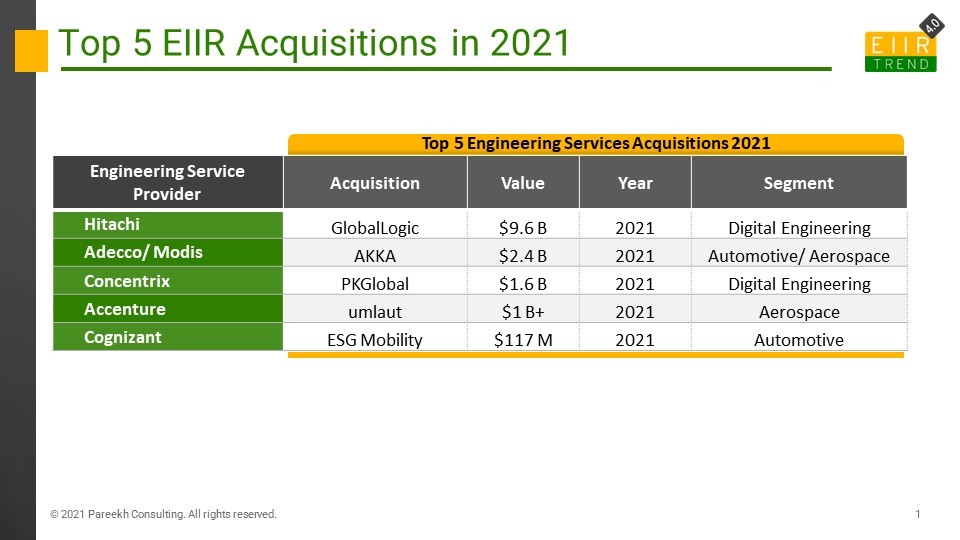 Private Equity: If you want to know the trend, follow the money, i.e., identify where private equity is investing in engineering services. Out of the leading seven private equity transactions, six are in digital engineering, as shown in the below exhibit. (Also refer to 2021 engineering services private equity transaction details on EIIRTrend)
IPOs: There were two major IPOs in engineering services in 2021, Thoughtworks and CI&T, and both of them are digital engineering service providers. There is a grapevine of more digital engineering service providers going for IPO in 2022.
Valuations: The market cap of pureplay digital engineering service providers is hitting the roof. That is true for both types of digital engineering service providers, whether listed in  India or listed in other countries. Some digital engineering service providers are even trading at the 100 P/E.
Deals/ Contracts: There are over 300 engineering services deals whose details came out in the public domain in 2021, and about two-thirds of them can be classified as digital engineering deals or contracts. (Refer 2021 engineering services deals details on EIIRTrend)
Why is there increased interest in Digital Engineering? And why now?
 First, the definition of Digital Engineering
 "Digital engineering enables an exponential business transformation of enterprises across products or services, processes, and business models for a step-change in business and operational performance by leveraging the power of software, data, connectivity, and new technologies."
For a detailed discussion on digital engineering, please refer to our PoV "Digital Engineering is necessary for Exponential Digital Transformation" (Read here)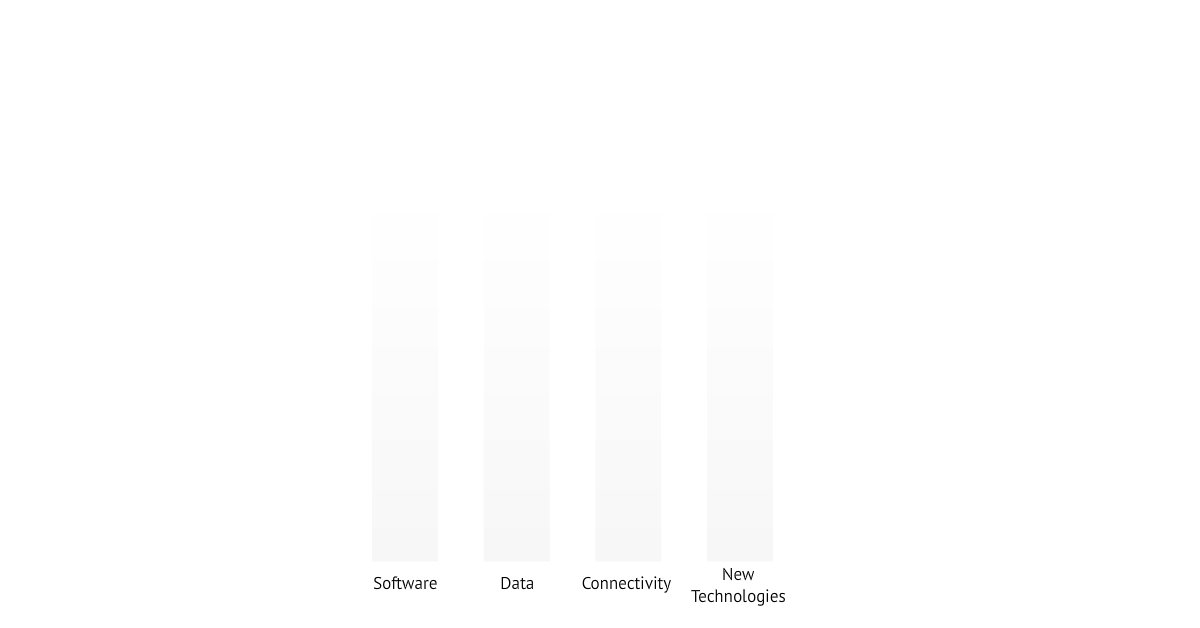 In short, Digital engineering is a must for digital transformation. And covid accelerated the need for digital transformation across industries, regions, and customers.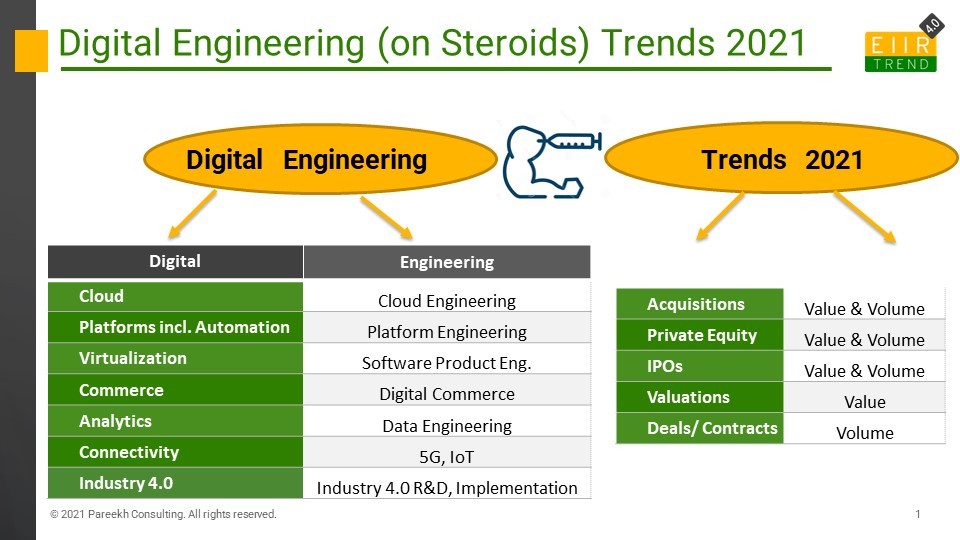 Digital Transformation is all about the cloud, analytics, virtualization, platforms, commerce, connectivity, and using new technologies such as Industry 4.0. In all these initiatives, digital engineering is underbelly.
Cloud: Cloud Engineering
Platforms: Platform Engineering
Virtualization: Software Product Engineering
Commerce: Digital Commerce
 Analytics: Data Engineering
Connectivity: 5G Engineering, IoT
Industry 4.0:  Industry 4.0 R&D and Implementation
Digital engineering has two flavors. Digital engineering service providers either can directly work for enterprises in their digital transformation projects or can work for ISVs, toolmakers to help them develop tools, software, platforms for digital transformation
Digital engineering is a missing link in enterprise digital transformation for both digital and physical industries. For the digital segment, it is software product engineering, which is the backbone of all software platform development and digital plumbing. For the physical segment, it is Industry 4.0, which is driving transformation in manufacturing and asset-intensive industries. Not being present in these sectors means inability to provide total solution and to give opening in your key customers to other competitors.
 Bottom Line: Digital Engineering is on steroids, and all stakeholders, be it enterprises, service providers, investors, or employees, should look at it strategically.
Private Equity: Have one or more digital engineering firms in your investment portfolio.
Retail investors: Look out for digital engineering stocks for riding this trend but be cautious of high PE stocks as well for corrections. Buy them on dips.
Enterprises: In digital transformation, while looking for strategic partners, look for ones with digital engineering expertise also.
Digital Engineering Service Providers: Prepare for competition. Convert your first-mover advantage to deep and differentiated capabilities. Develop thought leadership on digital engineering capabilities.
Other Engineering Service Providers: Look for developing or augmenting digital engineering capability to complete your offerings either organically or inorganically. You don't want your key customers to look for competitors for digital engineering work.
Professionals: Look for deep specialization in one of the areas of digital engineering. You will be in demand and have employment choices across service providers, enterprises, or startups.