Engineering services acquisitions are making news lately. Acquisitions are one of the biggest levers for entry and scaling engineering services as it helps in capability, credentials and customer relationships. The below chart shows the top 15 engineering services acquisitions. Two trends we see in the chart:
Bigger. Acquisitions have become bigger in the last few years. There are many billion-dollar-plus acquisitions from 2019 onwards.
Bold Moves. MNCs such as Hitachi, Capgemini, Accenture, DXC, Adeco have been acquiring engineering services firms for billion-dollar plus valuations.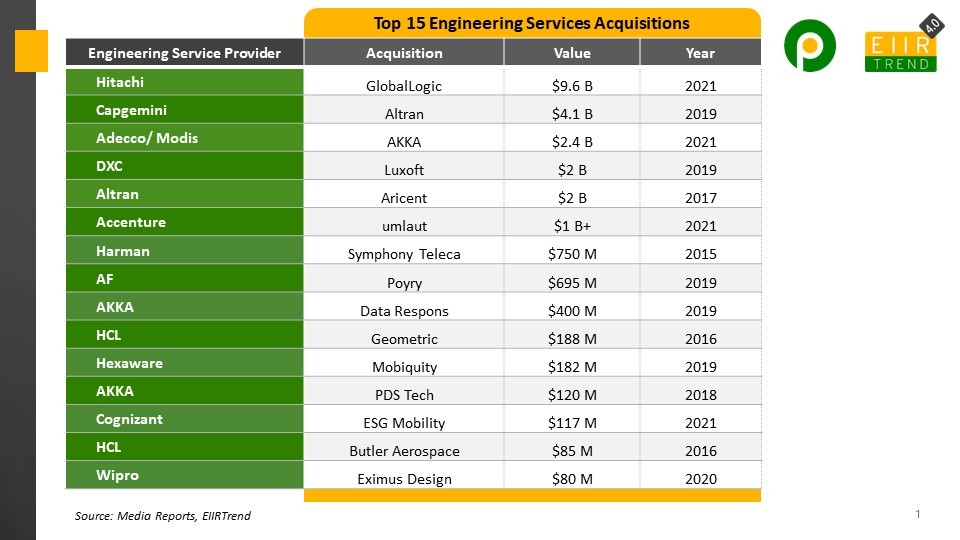 Why are MNCs acquiring engineering service providers?
There are two main reasons:
Potential Market Size & Growth: The market size and current growth rate make engineering an attractive segment to be in. The global R&D spend is in the order of $1.5 Trillion, and outsourced R&D spend is only about 5% of it. Also, the market for engineering services is growing faster than other service lines, such as IT and BPO, in the last few years (though 2020 was an exception). As growth in IT and BPO is slowing down, Global IT MNCs are looking for the next engine for growth, and engineering ticks all boxes.
Missing Link in Digital: Engineering is also a missing link in enterprise transformation for both digital and physical industries. For the digital segment, it is digital or software product engineering, which is the backbone of all software platform development and digital plumbing. For the physical segment, it is Industry 4.0, which is driving transformation in manufacturing and asset-intensive industries. Not being present in these sectors means inability to provide total solution and to give opening in your key customers to other competitors.
Will there be more big and bold acquisitions in engineering services?
Yes. We are likely to see acquisition moves from the following category of players
Entry by other IT MNCs. Big IT service providers which don't have a significant presence in engineering services may invest further in engineering. Service providers such as IBM, CGI, PwC, EY, KPMG, Fujitsu, NTT DATA, NEC, and Atos could make some big moves in engineering.
Other Incumbents Pureplay and Broad-based engineering service providers will look for scale. For competing with bigger players, the scale will be helpful. Earlier, engineering service was a niche market, and service providers could survive and even thrive by being small niche players. Now scale will be required for investment in R&D, patents, solutions, emerging technology, marketing, geography reach. Many service providers have intensified their M&A activities, and if grapevines to be believed, there are many acquisitions in the pipeline.
Private Equity activity may accelerate in engineering services. One corollary of the growing market segment is the interest of Private Equity players. There were 10+ PE transactions in the last couple of years in the engineering service space. The next 3-4 years will be the consolidation phase, and PE will be active in making money in this engineering consolidation wave.
Bottom Line: Engineering services market will expand, and engineering service providers will consolidate to take advantage of market opportunities. Expect more big and bold engineering services acquisitions!